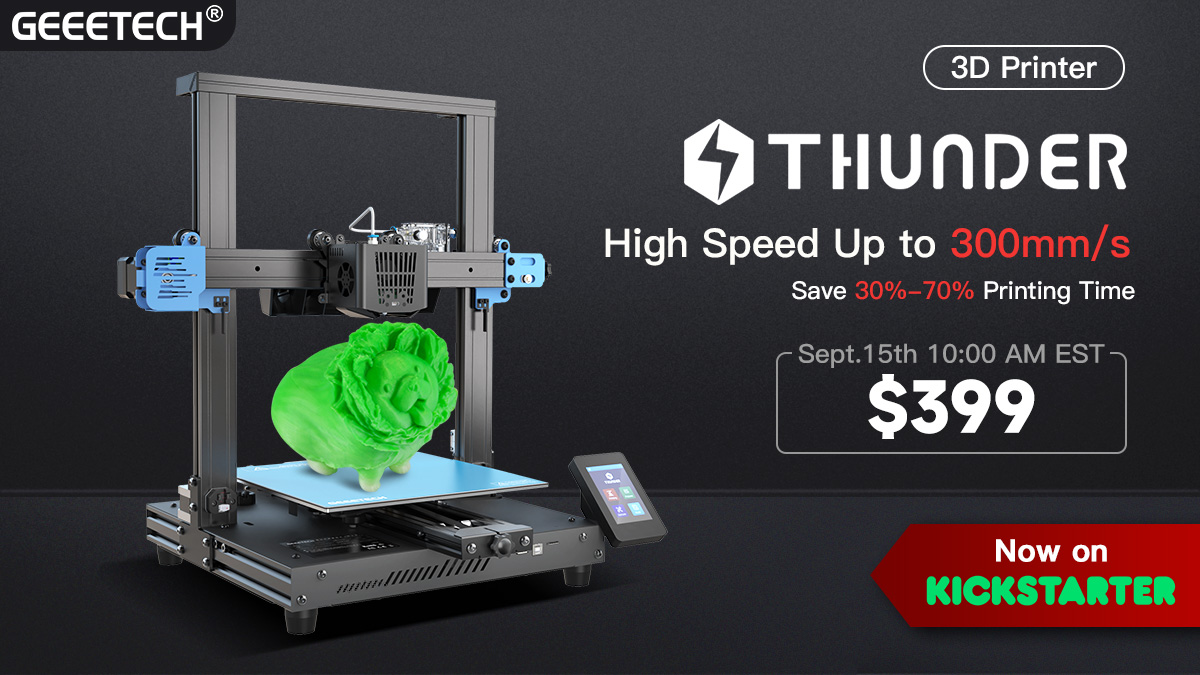 Geeetech THUNDER Kickstarter Campaign Officially Begins
The Geeetech THUNDER Kickstarter campaign has officially started today, and we are going to look at the deal on offer.
The THUNDER will come with high printing speed, all-metal body, a super strong cooling system and big printing volume.
Read on to learn more about this new speedy FFF desktop printer.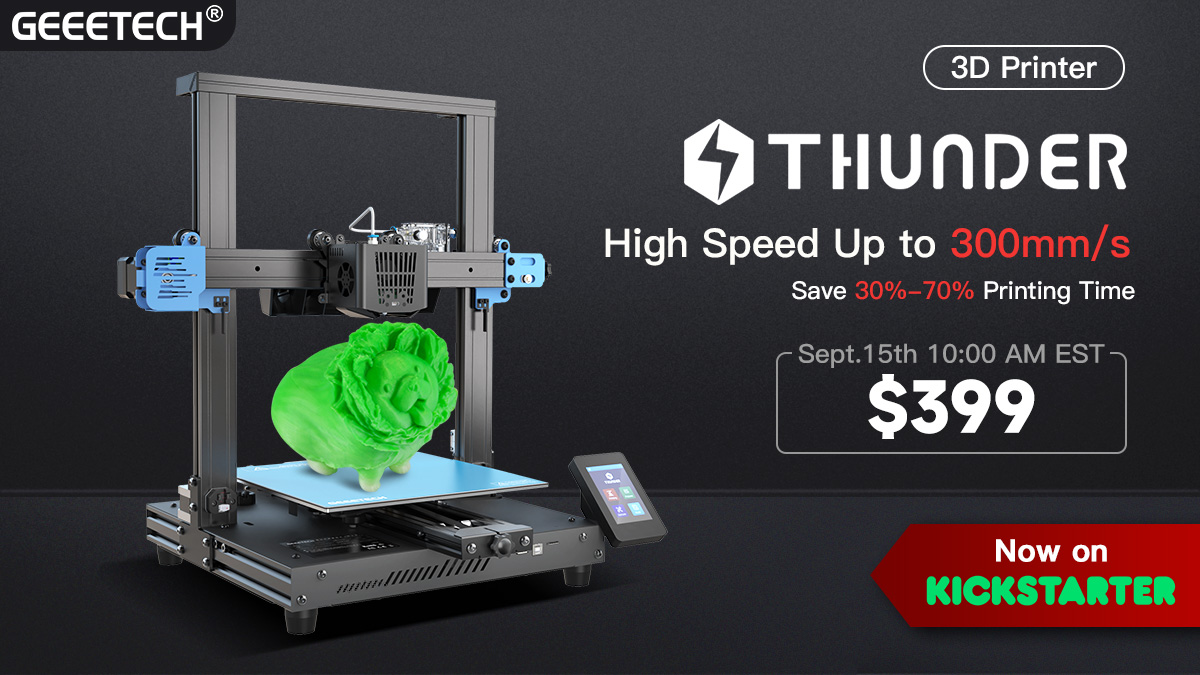 THUNDER
The Geeetech THUNDER has been in development for two years and is now ready for launch.
The printing speed of the Geeetech THUNDER can reach up to 300mm/s, with accelerations of 5000mm/s² for the X-axis and 4000mm/s² for the Y-axis.
When compared against the same model and same print quality, these speed gains result in a saving of between 30%-70% in printing time.
Overview
The THUNDER offers a printing volume of 250 x 250 x 260 mm and comes with 5 different printing modes for different printing needs.
In addition, the printer includes a dual drive gear extruder, high power heating module, large volume nozzle for extrusion, and 5 cooling fans for hotend and model cooling.
From the melting of filament, to extrusion, to cooling, the THUNDER remains stable thanks to its combination of rigid hardware including the all-metal body with dual Z axis design. This ensures stability of the machine when printing at high speed.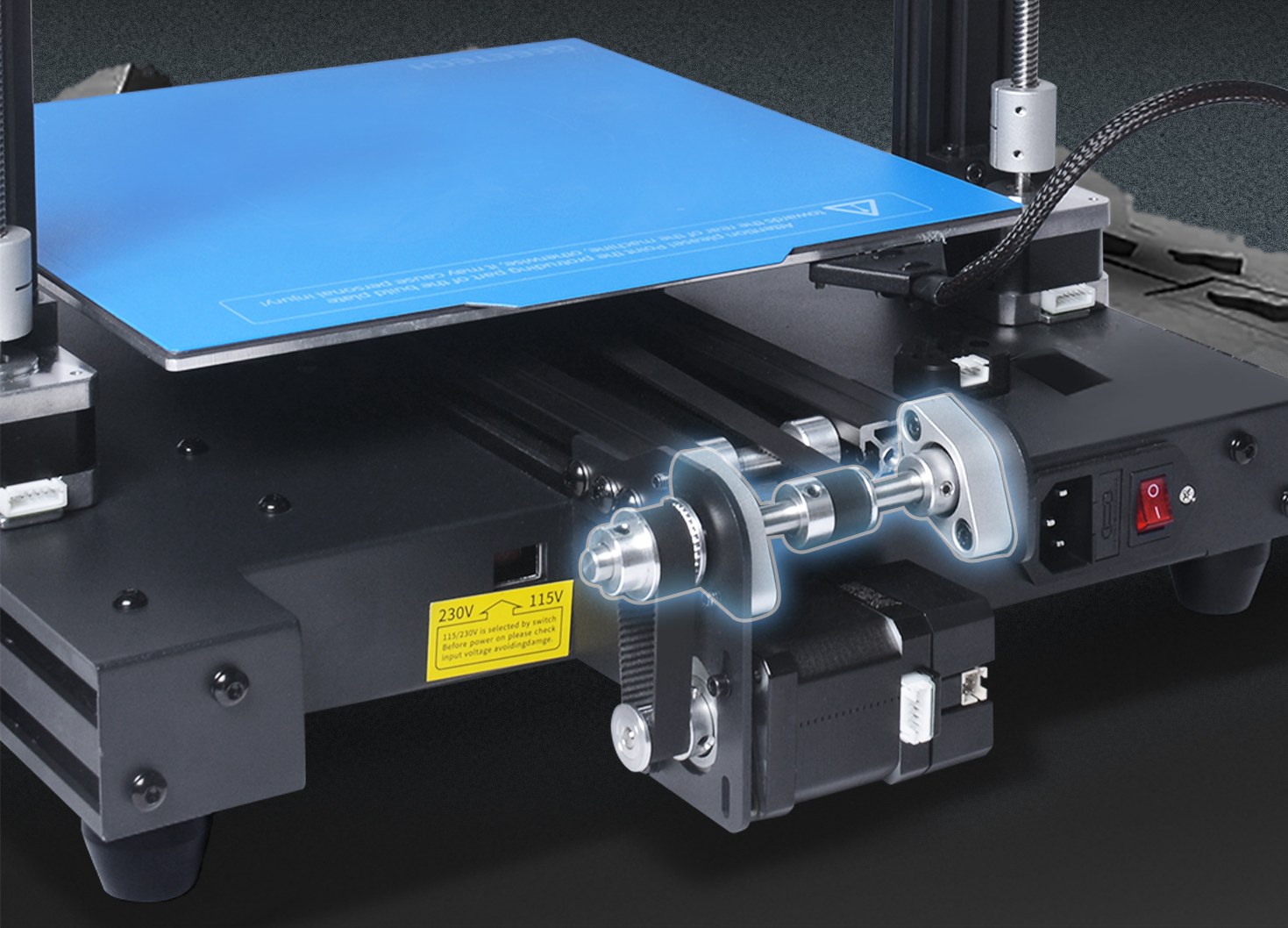 And if that's not enough, there are a lot of features to ensure the printer outputs the best prints.
Such features include quick adjusting belts, Y-axis damping, closed-loop stepper driver, and a multitude of cooling features.
More Fans
Heat dissipation is one of the bottlenecks in high-speed printing. The Geeetech THUNDER has been designed with two high-volume heat dissipation fans on the hot end. What's more, to achieve high-speed single-layer printing, THUNDER also has two larger auxiliary part cooling fans.
All four of these 4 fans can be turned on at the same time with the "One-button Strong Cooling Mode" function.
Speedy
The all-metal construction design increases the weight of the machine, as well as reducing the center of gravity of the machine, allowing fast speeds and extreme acceleration.
The Geeetech THUNDER adopts a closed-loop driver. When compared with an open-loop driver using the same stepper motor, closed-loop drivers can produce greater torque, allowing the printer to intelligently monitor the printing process and response in real time.
Geeetech has specially designed a professional damping structure for the Y axis, which intelligently manages the speed changing and largely reduces the vibration rate of the machine. It allows smoother movement for the hotbed.
Combined with the dual CPU control, the THUNDER enables to allocate and manage tasks effectively and respond immediately during high speed printing.
It offers 4 pre-set printing modes: Slow mode, Normal mode, Fast mode and Crazy mode.
The THUNDER also enables a user mode which users can set and share their customized parameters.
Adds-on
Along with the THUNDER high speed 3D printer, Geeetech has also developed high speed filament HS-PLA for high speed 3D printing.
Compared with normal PLA, HS-PLA has stronger fluidity in the molten state, smoother flow during the high-speed printing process, faster solidification speed and less deformation when forming.
Printing with the HS-PLA filament gives faster speeds, better print quality and a finer surface.
Geeetech offers the HS-PLA filament as an add-on in the Geeetech THUNDER Kickstarter campaign.
The price is $75 for 3 rolls and $138 for 6 rolls.
Price and Availability
The retail price of Geeetech THUNDER 3D printer is $699.
The THUNDER 3D Printer has gone through thousands of tests and is currently in mass production. Shipment will start by early November.
After the campaign ends, the THUNDER will start normal sales on the Geeetech official website.
| | | |
| --- | --- | --- |
|   | Price | Discount |
| Super Early Birds | $399 | 42% off |
| Early Birds | $429 | 38% off |
| Kickstarter Popular | $459 | 34% off |
| Kickstarter Special | $499 | 28% off |
| Kickstarter Special Extra | $529 | 24% off |
| Stretch Goal Special | $599 | 20% off |
| 2x Early Birds Bundle | $429×2 | 38% off |
| 5x Super Early Birds Bundle | $399×5 | 42% off |
The THUNDER is now available for pre-order on Kickstarter. Just a reminder, the super early birds will get a special price of $399.
You can see the Kickstarter page over at this link.