Gasgoo, a global leading automotive industry information service platform, has kicked off the Gasgoo Awards 2022. For the Top 100 Players of China's New Automotive Supply Chain, the program will cover ten core segments, namely autonomous driving, smart cockpit, software, automotive chip, electrification, thermal management, body and chassis, interiors and exteriors, lightweight and new materials, as well as service providers.
In software segment, the Gasgoo Awards 2022 have attracted 14 companies with 14 technologies to apply for the Top 100 Players of China's New Automotive Supply Chain. Here are some details about them.
Cocos Technologies 
Product: Cocos HMI
Description
• Cocos Creator backed by exceptional 3D real-time PBR performance
• WebGL2 modern rendering backend support
• Web, mini-game, & native cross-platform support, maximizing content distribution possibilities, delivering both native app and instant-loading digital content experience
• Convenient all-in-one editor for content creations with high efficiency

Photo credit: COCOS
Unique advantages
3D real-time rendering engine specially designed for automotive SoC platforms
Application
ADAS 3D visualizations, games for IVI systems, & digital avatars for VPA
Prospect
HUD & 3D HMI
TTTech Auto
Product: MotionWise – Safe Vehicle Software Platform
Description
Safe Vehicle Software Platform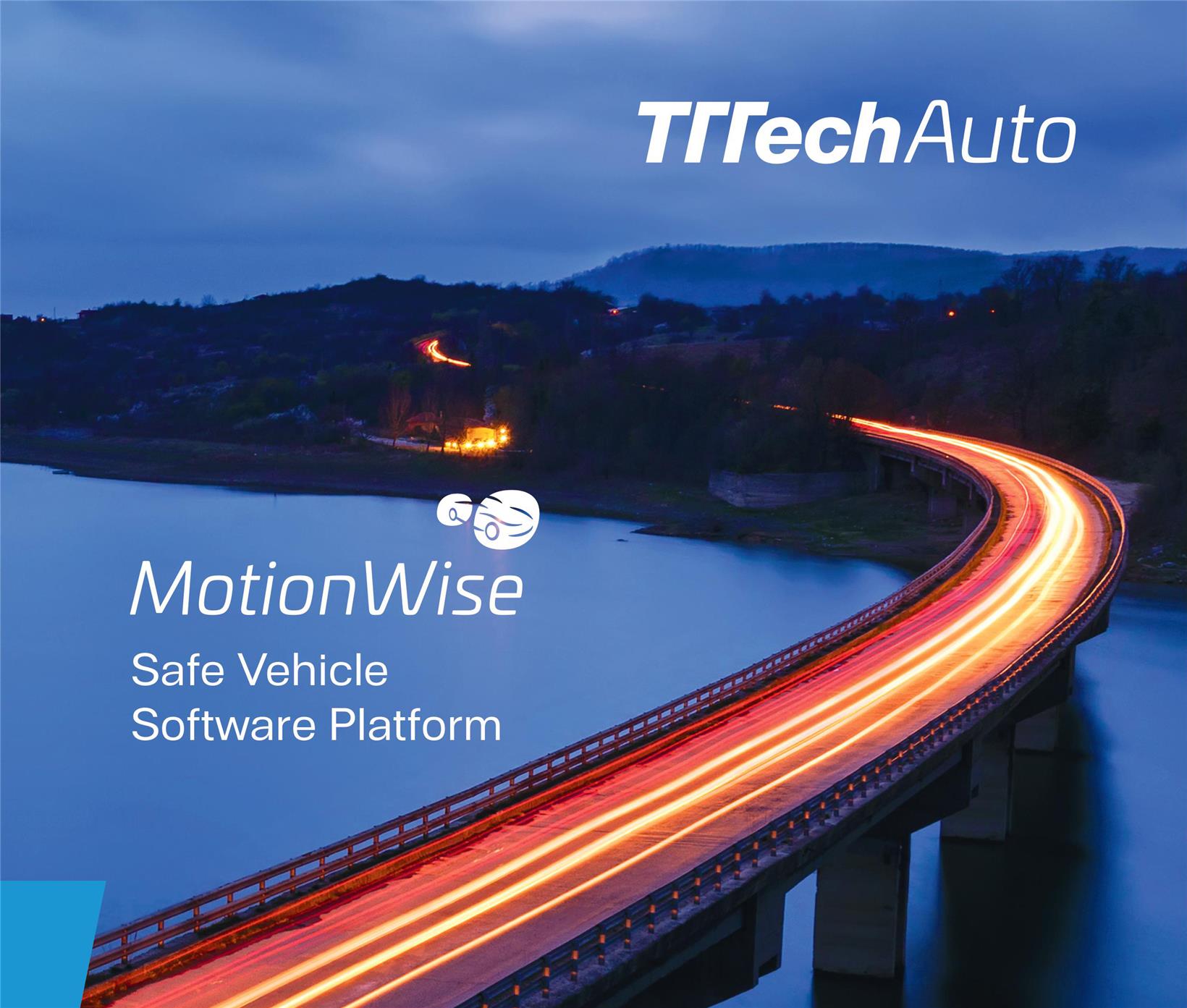 Photo credit: TTTech Auto
Unique advantages
A series-proven safe vehicle software platform that helps OEMs shorten software-defined vehicle development cycles while ensuring vehicle safety.
As of today, approximately two million vehicles are already driving safely based on MotionWise.
Application
Middleware software that supports different operating systems and hardware configurations to guarantee safe vehicle behavior.
Prospect
International cooperation with global OEMs, Tier-1 and Vendor companies
Unity
Product: Intelligent Connected Vehicle Human-Machine Interface (HMI) Solutions
Description
Unity provides a customizable toolkit for creating an interactive 3D HMI system in ICVs, enabling more efficient and faster creation of interactive 3D HMI systems that cover all phases: design, prototyping, development, and mass production deployment.
Photo credit: Unity
Real-time 3D rendering enables fast iteration and WYSIWYG(what you see is what you) development of HMI prototypes; Unity Asset Store provides millions of high-quality art and tools to speed up UI prototyping and HMI development.; Unity is compatible with popular SoCs from NXP, Qualcomm, NVIDIA, and others, and OS such as Linux, Android, and QNX.
Unique advantages
• Efficiency Improvement: Unity offers a lossless solution in the design to production HMI workflow
• Advanced 3D Rendering Capabilities: Unity offer advanced real-time, interactive rendering features powering 3D digital cockpits in the automotive industry
• Cross-platform Deployability: Unity is compatible with popular SoCs and OS, offering cross-platform deployment of high-quality visuals and performance
• Content Operation Solutions: Unity operation solutions offer customers the ability to create and monetize their content to enhance the driving experience
Application
Automobile companies can use Unity in all phases of HMI development, including design, prototyping, development, and deployment into mass production.
Prospect
Currently, the world's top 10 automotive OEMs have used Unity for HMI design and development, autonomous driving simulation and training, digital twin-based virtual commissioning of the production line, virtual training, product sales, and configuration. The future of HMIs unfolds in three key directions: Intuitive control, in-vehicle applications, and IIoT connectivity, Unity will power the design, development, and operation of next-gen HMIs.
Valtech Mobility
Product: the development and service of the V2X backend platform
Description
Platform development and Integration, Backend + Cloud Platform + Service + Data Usage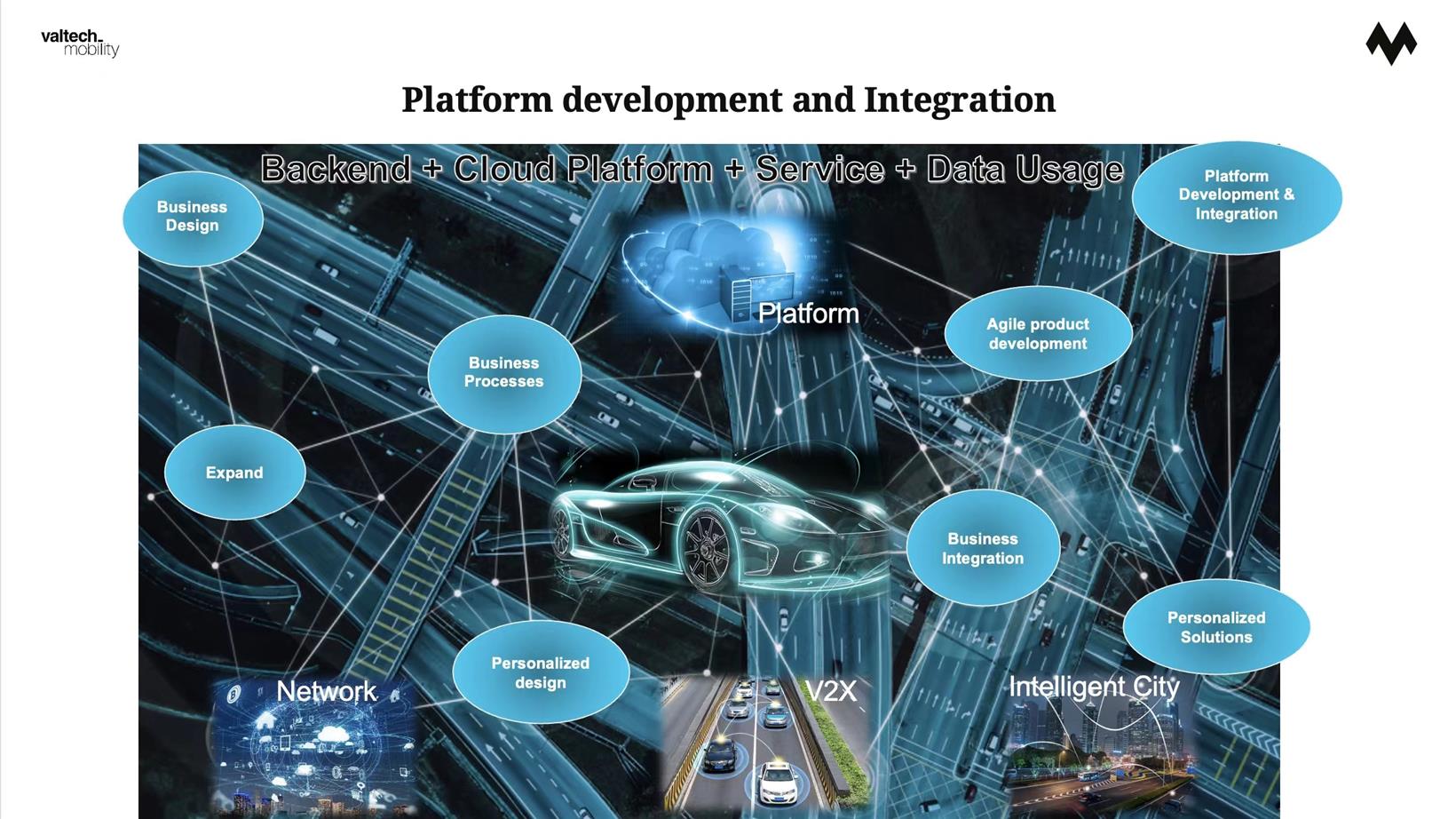 Photo credit: Valtech Mobility
Unique advantages
Rich experience in development and service, including: 1000+SOPs, 10+ million connected vehicles, 9 brands worldwide, 50+ connected car service
Application
E-Mobility, connected car
Prospect
Build an integrated platform for electric smart vehicles
ArcherMind
Product: Full-Stack Intelligent Car Software Platform
Description
ArcherMind Full-Stack Intelligent Car Software Platform includes Intelligent Domain Controller Fusion SOA Software Platform and Intelligent Cockpit Ex5.0 Software Platform, Intelligent Driving Smart-Vision Software Platform, and Automatic Testing Auto Runner Software Platform, offering professional services and technical support in R&D and product innovation to automotive OEMs and Tier 1.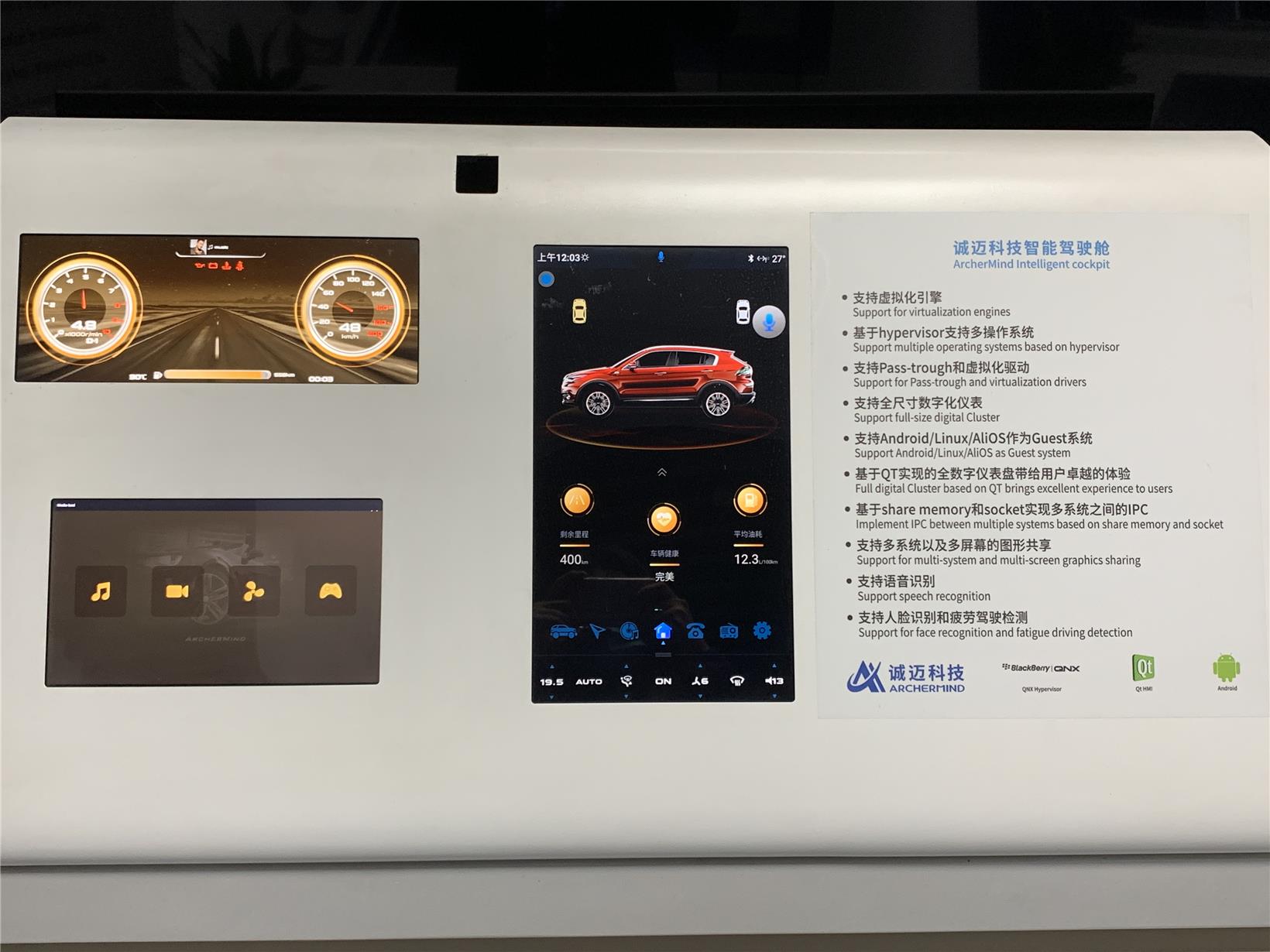 Photo credit: ArcherMind
Unique advantages
ArcherMind Full-Stack Intelligent Car Software Platform is compatible with a variety of mainstream chip platforms and operating systems. It has stable vehicle-level quality and supports customization. It can effectively support automotive OEMs and Tier 1 to improve software reusability, shorten the R&D cycle, reduce R&D cost and efficiently complete the intelligent upgrading of products.
• Intelligent Domain Controller Fusion SOA Software Platform, covering a complete software tool chain from basic communication to service management, data management, etc. It provides full-stack SOA technology and solutions with mass production, and ensures the security and availability of the architecture.
• Intelligent Cockpit Ex5.0 Software Platform, is compatible with mainstream vehicle-level chip platforms and multiple operating systems with quality of mass production. It supports intelligent vision and multi-mode perception functions.
• Intelligent Driving Smart-Vision Software Platform, full-stack Camera software platform solution from software, algorithms to tuning, makes visual image development easier and safer.
• Automatic Testing Auto Runner Software Platform, comprehensive automated testing tool, optimizes development efficiency and improves quality.
Application
intelligent automotive software R&D and customization in functional domains of the vehicle
Prospect
Smart cars are gradually replacing functional cars, and software is becoming more and more important as the basis for smart cars. The realization of intelligent upgrade requires the support of large computing vehicle-level chips, complex software and algorithms. It is a reasonable choice to use a reliable third-party basic platform to improve the quality and efficiency of R&D. ArcherMind Full-Stack Intelligent Car Software Platform provides strong technology support of architecture, cockpit, imaging, and testing for automotive OEMs and Tier 1.
Desay SV
Product: OTA Solution that supports one-vehicle, one-key upgrade package encryption and decryption
Description
Encrypt each vehicle with a different key by extracting a small portion of the data from the upgrade package file. For most of the remaining data, all cars are encrypted with the same key as before. In this way, for each vehicle, the encrypted upgrade package is still different, which better solves the problems existing in the current solution.
Photo credit: Desay SV
Unique advantages
By upgrading the file segmentation processing, the high-security requirement of one-vehicle, one-key is met, and the storage pressure on the server-side is reduced at the same time.
Application
OTA has become one of the most important symbols of the current smart car, and the upgrade scope gradually covers the functions of all parts of the car. Therefore, OTA upgrades will become the norm. The industry also attaches great importance to the safety of automotive FOTA functions.
Prospect
With the advent of the era of automobile intelligence, the emphasis on OTA security will be greatly increased. At present, the conventional solutions in the industry still have defects: vehicles with the same upgrade package have the same encryption key, so as long as one vehicle is cracked, other vehicles will also be seriously threatened. Desay SV's OTA solution can solve this problem very well.
Beanpodtech
Product: Beanpod Zero Trust In-Vehicle Security Solution (ZT-V)
Description
ZT-V is a security product based on the idea of zero trust for vehicles and solving the security risks of SOA open architecture. The idea of zero trust is continuous verification, never trust. By implementing SOA application isolation, data storage isolation, external device isolation, network isolation, system sensitive resource isolation, system call restrictions, system permission restrictions, CPU resource usage restrictions, memory resource usage restrictions, access control to SOA services and other technologies to protect on-board security assets.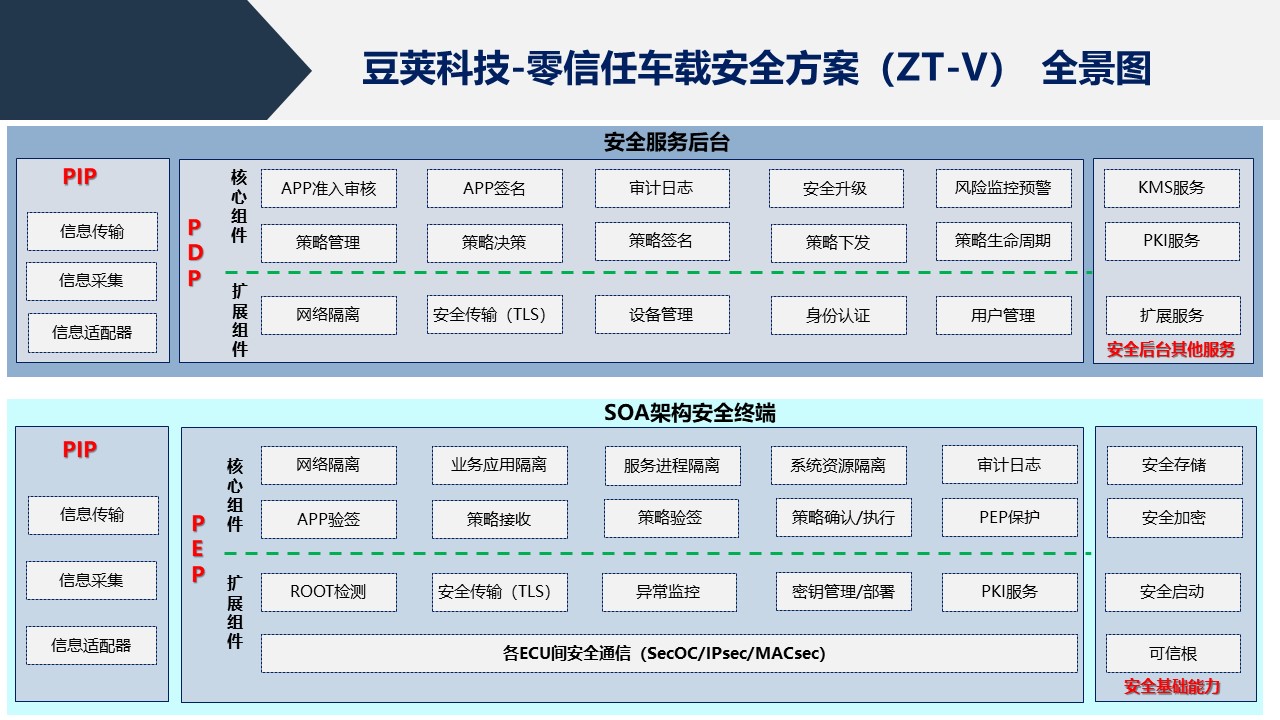 Photo credit: Beanpodtech
Both ZT-V and IDPS protect the security of the vehicle and meet compliance requirements, but the focus is different, there are complementary.
1) ZT-V focuses on protection, and IDPS focuses on detection;
2) ZT-V focuses on business security, and IDPS focuses on network and platform detection;
3) ZT-V focuses on prevention in advance, and IDPS focuses on warning after the event;
4) ZT-V adopts micro concept (zero trust), focusing on fine-grained protection of assets; IDPS adopts traditional macro concept, focusing on dataflow security protection.
Unique advantages
• Compliance: meet the security requirements of TARA analysis;
• Active defense: establish the security protection of the SOA open platform;
• Information security: Lay the foundation for the protection system of data assets and personal information;
• Dynamic enforcement: dynamic adjustment and distribution of policies;
• Micro isolation: particles are refined to processes and interfaces;
• Product performance: low memory, low CPU usage;
• Decoupling: decoupling from SOA system code;
• Portable: Portable with SOA system;
• Security: the security closed loop of the solution;
• Test suite: Provide test tools for acceptable products.
Application
Establish a security protection system based on the vehicle SOA architecture to meet compliance.
Prospects
Vehicles are becoming more and more intelligent, information and communication technologies oriented. Car hacking has proven to be a real threat. At the same time, the demand for software-defined vehicles is a trend. The risk is uncontrollable based on the open platform of the SOA. While the risks of SOA applications are magnified, the SOA service resources, system resources, data resources and other vehicle security issues are becoming more and more serious. Therefore, it is imperative to establish a security protection system of the SOA open platform to protect the security assets in the vehicle.
ArcSoft
Product: VisDrive ADAS-BSD System
Description
Based on ArcSoft's cutting edge computer vision technology, the VisDrive ADAS-BSD system is fully integrated ADAS system with blind-spot-detection functions, providing a one-stop-shop solution for in-vehicle visual perceptions which includes software, mechanical structure, engineering, algorithms, and services for L2+ and L3 smart driving, and can help OEMs to achieve mass production more efficiently.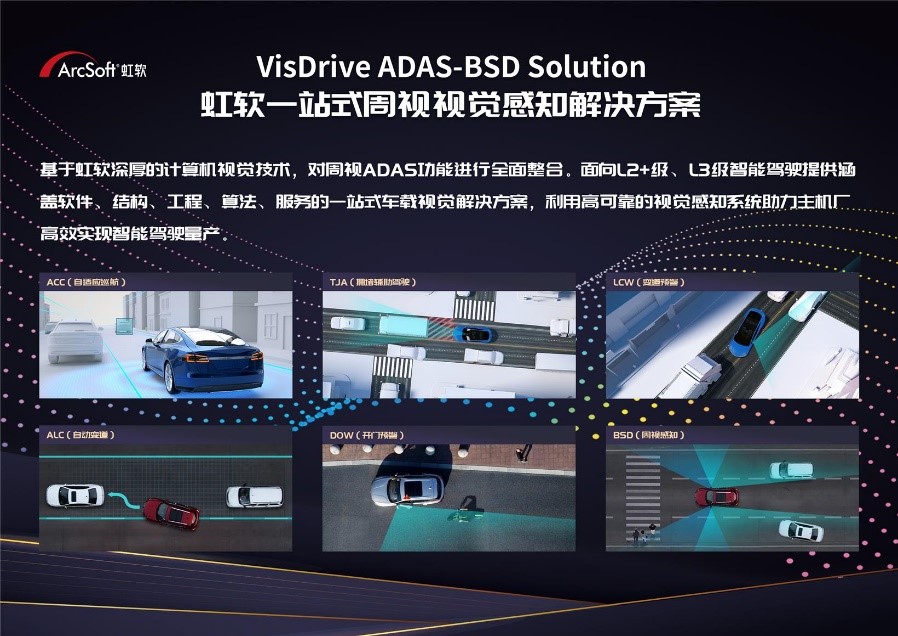 Photo credit: ArcSoft
Unique advantages
The VisDrive ADAS-BSD product is capable of detecting all basic traffic-related people and objects, as well as lanes, road boundaries, and parking spaces. It provides a variety of structured perceptual information for the detected objects. In addition to perception algorithms, the VisDrive ADAS-BSD product also provides engineering tools and solutions for the whole product life cycle, including manufacturing and production processes, as well as stable operations.
Application
ADAS-BSD is an essential sensing technology used in various scenarios, including high speed adaptive cruise control (HWP) and traffic jam assistance (TJA). It is also one of the key technologies automatic lane change (ALC), blind spot detection (BSD), lane change warning (LCW,) and door open warning (DOW).
Prospect
The movement of intelligent driving in the automotive industry is unstoppable. With the continuous popularization of L2+ and L3 assisted driving functions, ArcSoft VisDrive ADAS-BSD System will be gaining more market acceptances in the near future.
Z-one Tech
Product: Z-one Galaxy Intelligent Cockpit Software Platform
Description
As a practitioner of "data determines experience and software defines vehicles", Z-one tech focuses on the research and development of intelligent vehicle technology for a long time, providing customers with full stack or platform solutions. "Z-one Galaxy Intelligent Cockpit Software Platform"is an important carrier of digital experience products,this intelligent cockpit software solution is based on Z-one Galaxy full Stack four technical bases, including computing platform, electronic architecture, software platform and intelligent cloud platform.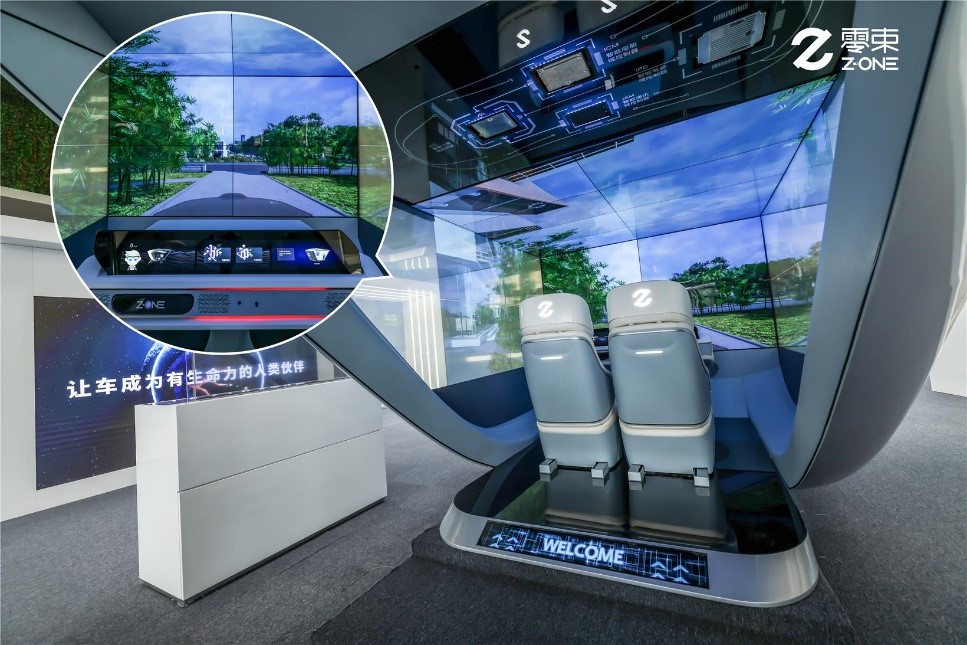 Photo credit: Z-one Tech
"Z-one Galaxy Intelligent Cockpit Software Platform"is based on the mainstream Android AOSP and virtualization technology RTOS+Android operating system in the automotive field, equipped with many platform modules required by SOA software and cloud management integrated software architecture, and it realizes the most important HMI type"Zone UI"and many product lines functions in the application development platform. Its application covers voice semantics, map navigation, entertainment ecology, instrument and scene reconstruction, smart vehicle service, multi-sense interaction, high-level sound, vehicle games, scene workshop, exhibition hall mode, digital mall, ecological domain mobile phone interconnection and many other basic and innovative product experiences.
"Z-one Galaxy Intelligent Cockpit Software Platform"has been successfully applied to a number of export models of SAIC in the European market after careful research and product experience polishing, bringing the Chinese leading cockpit experience to Europe. The newly upgraded "Z-one Galaxy Intelligent Cockpit Software Platform"will be used for a premium intelligent electric vehicle brand — Feifan Automobile. In the future, it will also be used for more models under development, and can bring more intelligent and multi-mode HMI user experience.
Unique advantages
• Galaxy Full stack base support
Different from other independent cockpit domain controller solutions, "Z-one Galaxy Intelligent Cockpit Software Platform"relies on Z-one intelligent vehicle full stack solution, including computing platform, electronic architecture, software platform, intelligent cloud platform, which implanted deep technical base for cross-domain integration, continuous product selection, and the ultimate user experience innovation.
• SOA software platform
Z-one's unique SOA software platform supports a variety of vehicle domain controllers besides cockpit domain controller. It has outstanding cross-domain integration capability, the most excellent scene experience and user scene customization ability. Based on SOA software platform, the software can be bought, sold and subscribed.
• Precipitation and innovation of"Z-one Galaxy Intelligent Cockpit Software Platform"
In order to support the digital experience of products, Z-one developed its own cockpit software platform. In addition to the basic product functions of the cockpit, the platform also provides unique user experience design (Zone-UX) and HMI type (Zone-UI). Independently developed some Al algorithms, such as in-cabin perception (OMS, DMS), multi-mode interactive Nebula speech framework ZNLP. In the platform design, it focus on the non-functional objectives such as performance and stability. In addition, it has fully optimized the slow start of the cockpit to realize low static current start-up second. Many traditional peripheral functions have been built into
the software platform, such as high-level sound, HUD, AVM, DRV, streaming media rear-view, etc. Through the platform, functions and algorithms are deposited to provide good environment for UX innovation.
• Multi-mode interactive intelligent partner
Through intelligent partner products, it integrates intelligent applications of various functions such as in-cabin perception, image & voice multi-mode, 3D image, intelligent recommendation and intelligent scene, and provides evolution-able intelligent experience for users in long-term use.
• Integrated cabin and steering for immersive experience
"Z-one Galaxy Intelligent Cockpit Software Platform"is positioned in the application scenarios of intelligent vehicles, deeply integrated with intelligent driving, providing user experience of automatic driving scene reconstruction and human-machine co-driving. Meanwhile, combined with multi-screen, multi-mode, AR/VR and other technologies, to achieve intuitive interaction and immersive cockpit experience in the form of multi-sensory linkage.
• Ecological integration
Cooperated with leading partners in internet ecological industry and using the core capabilities of SOA, we will create leading cabin ecological experience and provide ecological entertainment, vehicle games and many other ecological services. At the same time, in-depth cooperation with mobile phone and IOT manufacturers, integrate ecological services from hardware and software protocols and cloud, truly realize seamless flow across borders, terminals and devices, and will provide user-centered ecological services.
• Data closed loop
Based on the integrated architecture of cloud tube side, and supported by XOTA
and data factory, the software platform provides software generation innovation capability and has closed-loop capability of self-learning, self-growth and self-evolution at algorithm, application and product level.
Application
"Z-one Galaxy Intelligent Cockpit Software Platform"can be applied to intelligent vehicle cockpit products:
• The software platform based on SOA architecture can adapt to various hardware platforms and car models;
• Derivative products and UX can be customized based on the needs of branding;
• Meet the needs of integration of intelligent cockpit and autopilot in premium cars, provide "one-stop", "differentiated" and "multi-level" solutions including hardware, software and cloud services.
Prospect
In the future, intelligent cockpit system will continue to show a trend from decentralized to centralized, from independent to integrated, and the complexity of cockpit software will be further increased. Z-one tech adhere to user experience as the core, commit to creating a new intelligent species integrating self-learning, self-growth and self-evolution genes, providing users with digital products and experience of scenes from inside to outside the car, from local to cloud. As one of the specific measures to realize "data determines experience and software defines vehicles","Z-one Galaxy Intelligent Cockpit Software Platform" will assign more premium smart electric vehicle brand, to provide users with easy, convenient, and abundant immersive driving experience.
In the new era of software and hardware integration development, Z-one tech will work with partners in a more open and efficient way to promote industrial reform, build a new ecosystem of intelligent vehicles, achieve cross-border extension of the industrial chain, and build intelligent vehicles into the "third space" for mobile travel.
Gasgoo not only offers timely news and profound insight about China auto industry, but also help with business connection and expansion for suppliers and purchasers via multiple channels and methods. Buyer service: buye[email protected]   Seller Service: [email protected]
All Rights Reserved. Do not reproduce, copy and use the editorial content without permission. Contact us: [email protected].