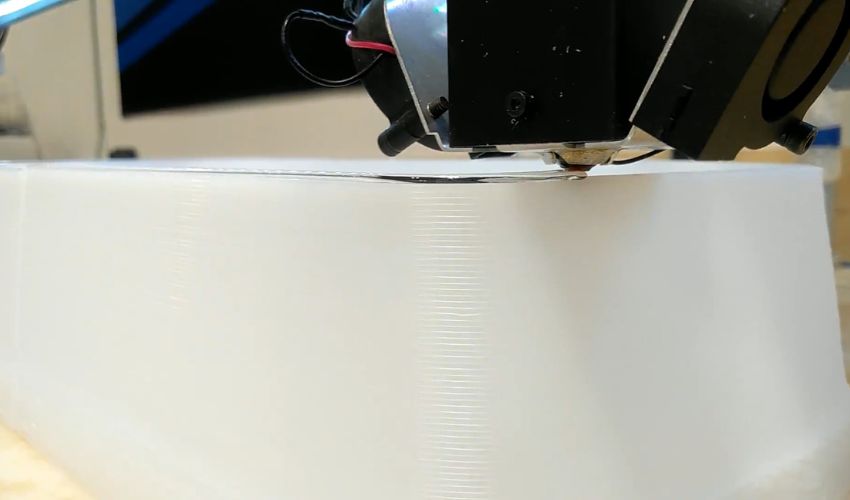 The market for 3D printers continues to grow, and as machines become more reliable and faster, extruders, hotends and nozzles are now components that can limit the capabilities of a printer. The Canadian company Dyze Design wants to offer a set of solutions adapted to a wide range of machines and has developed high performance extruders such as the Pulsar or the Typhoon. These extruders range from the standard FFF desktop to professional pellet solutions. By offering high speed printheads with anti-leakage systems, Dyze Design wants to ensure a fast, accurate and repeatable FDM printing process. We met with Xavier Geremia, Sales Representative & Account Manager at Dyze Design and had the opportunity to ask him a few questions to learn more about high speed printing and the role of pellets today.
3DN: Could you introduce Dyze Design?
Dyze Design is a Montreal-based company that develops, manufactures and markets components for 3D printers, mainly heating heads, extruders, sensors and other types of accessories that control the supply and deposit of raw materials. Our mission is to "empower people to create tools and things they need, where and when they want." This mission is being met by developing products that improve the reliability and usability of 3D printers by enabling the printing of new materials.
In a word, we want to become the "Intel Inside" of 3D printers: to position ourselves as the main supplier of extrusion systems for all printers operating on the principle of material extrusion (MEX), particularly at very high industrial throughput, which is aimed at both industry and robotics.
3DN: Could you tell us more about the filament market vs. the granule market (market position, use, applications, etc.)?
The use of filament systems is still mainly used in the market, although the use of pellets is very common in the plastic industry, especially in injection molding. The RepRap movement has further popularized the use of FDM printers and consequently the use of filament, both in the consumer and industrial markets. In short, the use of raw material (plastic pellets) is relatively new to 3D printing, but the advantages are great, especially when it comes to large format printing and high extrusion rates.
3DN: What are the advantages of granules over filament?
There are several advantages to pellet 3D printing. First of all, the cost is 3 to 4 times lower, on average, than filament for the same amount of material. By targeting very large industrial high speed printers, the Pulsar, which extrudes 2.5kg per hour of material, therefore allows for significant savings. All the more so as filament spools of more than 1 kilo are rather rare. A high flow system for filaments (like our Typhoon) requires changing the spool quite regularly.
Secondly, pellets appear to many industrialists and manufacturers as a more ecological and flexible solution. It is possible to produce your own pellets, especially from recycled materials (so-called "repro"). Finally, pelletizing offers a great deal of flexibility in the choice of materials: some polymers simply do not exist in filament form, because their properties do not allow them to be processed, but they can still be extruded to form a part.
3DN: What are the precautions to take when using granules?
The precautions are similar to the use of filament, although more sensitive to moisture. It is therefore important to store certain types of materials in a container that protects against moisture, using a drying agent. Moisture is the number one factor in missed prints. Otherwise, it is advisable to use a granule delivery system to avoid having to always manually fill the head.
3DN: What are the advantages of a high-speed extruder like Dyze Design's?
In recent years, there has been a trend towards "acceleration" of printers (e.g. printers boasting speeds of around 300mm/s). This is all well and good, but in reality, if the extrusion system is not able to extrude at high speeds, the high acceleration is of little use. In short, a high-speed system, even under a medium-speed printer, will greatly reduce printing time, since such a system means more material per second. This is especially true since larger nozzles will often be used and the line and layer diameters will be much larger. This is ideal for printing large parts on the increasingly popular large printers (BigRep, Modix, 3D Platform, etc).
3DN: What precautions should be taken when using a high-speed extruder?
Obviously, high throughput means a lot of molten material. In high-speed printing and especially in large format, the parts tend to warp more, because each layer does not have time to cool down quickly enough. It is therefore important to use a good active cooling system, but also to have a "Design for Additive Manufacturing" logic, by making sure that the layers are well supported on each other.
A common disadvantage of high-speed pellet systems is that they can only print in "vase mode". Since shrinkage is almost impossible with a screw extrusion principle, the material continues to flow (oozing/leaking) when moving. However, in our case, our Pulsar uses an anti-leakage system in the nozzle, which allows movements in X and Y for multi-part printing or let's say not only in vase mode.
3DN: What makes Dyze Design's extruders and hotends different?
Today, 3D extrusion specialists are offering more and more products that are extremely reliable and adaptable to users' constraints. This is actually very good news, as it shows both the growing interest in additive manufacturing, and the adaptability of extrusion system manufacturers to all the new challenges and constraints of a booming market.
In this logic, our products, positioned as very high-end, fully meet the needs of users, especially industrialists with more advanced manufacturing and engineering constraints. Our extruders are made of 100% metal, can withstand heavy shocks or vibrations and allow an extrusion temperature of 500°C for the printing of any polymer on the market. In addition, our systems can withstand hot environments up to about 80°C and are reliable and durable.
Our philosophy is also to offer products that adapt to an open source environment, to allow each user to use his own ecosystem and thus meet his own needs and challenges.
Finally, almost all the parts of our high-speed industrial extruders, the Typhoon and the Pulsar, are directly designed and machined by our in-house production team in our Montreal facility, which allows us to offer the best possible quality, but also to be extremely reactive to each constraint. If you wish to discover more, please visit our website HERE.
What do you think of the solutions offered by Dyze Design?Let us know in a comment below or on our LinkedIn, Facebook, and Twitter pages! Don't forget to sign up for our free weekly Newsletter here, the latest 3D printing news straight to your inbox! You can also find all our videos on our YouTube channel.